Les Jensen: Founder of New Human Living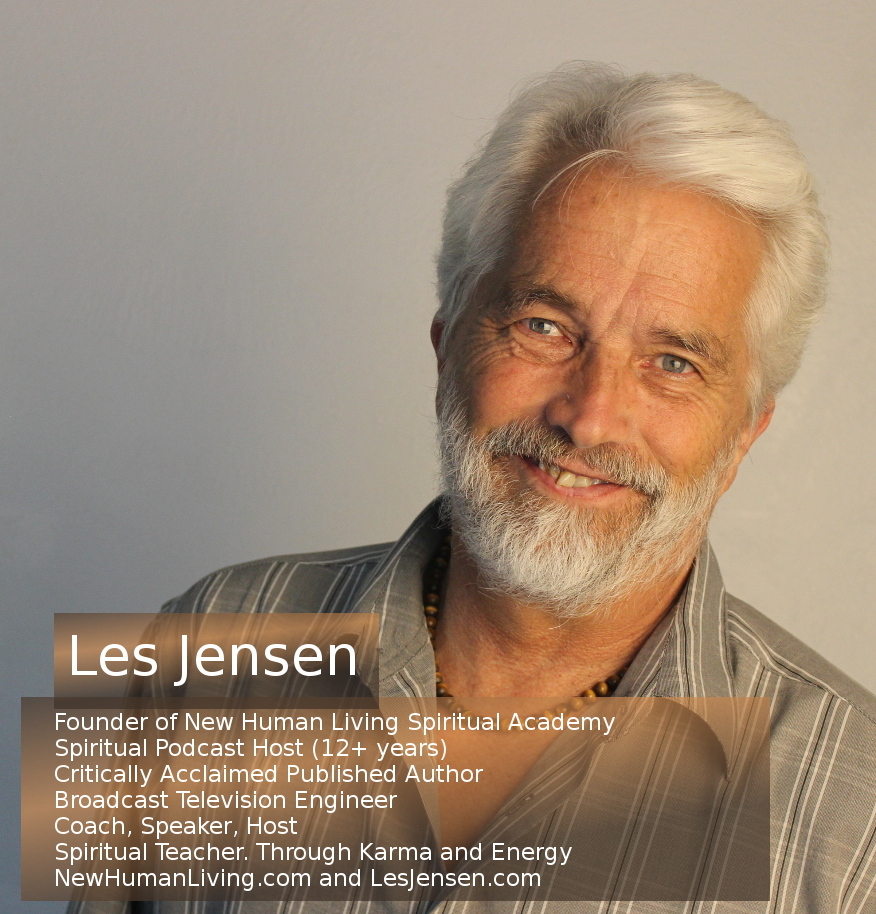 New Human Living® was founded by Les Jensen, whose career as a Broadcast Engineer has involved working with high-power television transmitters. While working with this powerful energy, Les also had a powerful personal experience with his own subconscious energy, an event that released a large amount of suppressed emotional energy from within his own subconscious … moving him to his very core. Working with energy every day, Les gained an even better understanding of the fundamental nature of its behavior, which allowed him to make a direct correlation between the nature of high-powered broadcasting transmitters and the personal energy stored within each of us.

All of these experiences brought about the fundamental principles of the New Human Living philosophy … the idea that we all have an infinite source of Divine energy within us that can never dim. But simply knowing this doesn't necessarily make it available to us in our everyday lives. Les just knew that there had to be a practical way of tapping this personal energy and bringing it into effect every single day.
New Human Living is a platform for personal empowerment. Your personal empowerment. With a fresh approach to languaging that helps you understand the nature of your own personal power, New Human Living provides the tools to help you make lasting changes in your life. To cleanse your personal power is to open up the portal of your authentic power so that it flows through you, as you.
Following the New Human Living fundamentals helps you bring more of your own personal power into effect in your life every day, in every way. From that place of power, you'll find a deep sense of satisfaction and fulfillment, and a re-connection with an ocean of inner peace within your BEing. It is you living your life in a way that fills you with excitement about being alive. It is you fulfilling the vision of your heart and soul. It is a very powerful place in which to live.
Les Jensen founded New Human Living® in 2009. He created this platform so that people could discover the authentic nature of their personal power. Not based on any religion, the New Human Living material simply helps you discover your own authentic truth. You decide what you believe and think. To project New Human Living's beliefs on you would pollute and dilute your own authentic self. You cannot know your true power following someone else's dogma. We teach principles, though how you apply them is up to you. Our goal is to help you create your own personal Pure Authentic You! ®
You can learn more about our founder at LesJensen.com
How to find Your Own Spiritual Path. I often encounter people expressing sentiments such as, "I am spiritual but not religious," or "I believe in something greater than me, but I don't know what that means." The quest to find meaning, strength, hope, and peace through a spiritual belief probably goes back to when humans still lived in caves. Across millennia, religions extended a haven and framework to those pursuing a link with a higher power. However, an increasing number of individuals have grown disheartened and disenchanted with teachings that seem geared toward manipulation and disempowerment, especially as leaders of religious institutions have perpetrated actions contradictory to their professed ideals .Les Jensen's book is for all those seekers who want to define their own spiritual path. In clear and gentle ways, he lays out that the search for the divine begins and culminates within oneself and that in contrast to the religious dogmas, many of us have internalized, we are not separate from God but one with the universal source. To connect and harmoniously exist in accord with this source, Jensen advocates following a straightforward directive from the divine: "Love one another. Forgive yourself, and then forgive others. Have compassion for yourself and for others too. Do unto others as you would have them do unto you." Powerful and indispensable reminders during times of escalating divisiveness and xeno- and homophobia. I wholeheartedly endorse this book to anyone looking for the divine light within to gain a greater sense of meaning, tranquility and empowerment. 5 out of 5 stars
I recently had the honor of talking with Les Jensen on The Science of Superpowers show. Les provides a wealth of wisdom and personal contemplation on matters of deep importance to humanity. He highlights the work of others through his New Human Living organization and tirelessly promotes the best in all of us. If you're looking for a guest who inspires and delights audiences, check out his latest book, Forgiven Sinner: God's Last Savior. Les, thank you for sharing your wisdom and for being a celebrated man of co-creation. We love you and appreciate the work you do in the world! 💜 Tonya Dawn Recla Director of Super Power Experts
"It was amazing to spend time with you - thank you for the opportunity to share my work with you and your listeners! It was so much fun, and your questions did such an incredible job of opening space to lay the groundwork to bring awareness to this new evolution in patient care. I thank you for the ways in which you promoted my book and Medical Reiki Training - honestly, it was thrilling to be with you in sacred space."
"Thank you again for the opportunity to have a conversation with you and share T.J.'s incredible life experiences with your listeners. I agree that our time together was well spent and that I had the chance to share the points about T.J.'s journey that I hoped your listeners would relate to. I appreciate the thought-provoking questions you asked. As you can imagine, I do a lot of radio interviews and podcasts and I have to say you were one of the most prepared hosts. You gave me a different perspective in which to view my own work and I am grateful for that insight."
Have you been inspired by Les Jensen? Perhaps through his books, blogs, radio shows, or products? If so, we would love to hear from you!
We welcome you to submit a testimonial to inquiries@NewHumanLiving.com
"In his book, Personal Power Fundamentals, Les Jensen offers a new, different, powerful view and understanding of how we interact with our world. He has refined the old-fashioned views of old ideas. For example, in Les' view, "Karma" is not something you are stuck with and cannot change, but rather, it is something you can completely control, and by doing so you can greatly improve your life. Your karma is effected by your own life experiences! Les shares a new concept of "Personal Energy" which I feel is much more straightforward and usable in daily life than deciphering stacks of psychology books. In fact, I feel that some of the examples in Personal Power Fundamentals are more relatable and understandable for the average person than many technical psychology or self-help books. The underpinnings of your subconscious thoughts and how your subconscious "Energy" affects your daily life, as explained by Les, are life-changing. It is one thing to understand the effects of subconscious energy, but it is another thing to do something about it! Les supplies the tools and insights to ... " read the whole review under the Personal Power Fundamentals product review.
"I recently ordered Les Jensen's Emotions audio download. It was very informative and the fact that it was an audio download I was able to make notations at various timelines that allow me to go back and review the specifics that I found were very helpful for me. The audio helped me feel my emotions and to feel how my emotions felt. This is an excellent audio and I would recommend it to anyone who is trying to get in touch with their emotions."
"Les Jensen shows us how to look at whats happening in our culture today based on centuries of very deep karmic imprinting personally and on the collective consciousness of us all. READ THIS BOOK to see how many beliefs, economic systems, governments, religions and school systems have tried to prepare us for our future but in many ways have created turmoil and despair. Jensen shows us that in restoring our separation from divine source or love within, we discover the personal hero we are and learn to not measure life based on others expectations or the outside world. Jensen helps us understand our individual path to spirit, salvation and accepting responsibility for becoming the best human/divine being or Savior, to improve life and our planet. In knowing our relationship to the creative force we can bring Heaven to Earth. Sensitively written and comprehensive exploration of spiritual transformation. Excellent!"
"This wonderful book has clarified many complex areas for me. The book provides foundational knowledge about the true nature of who we really are, and how we are to navigate our way through the twists and turns of being human. Les Jensen is the teacher of our times, especially in these times of constant Shifting into a new way of being."
"Many hope for a miracle – no matter the religious or philosophical beliefs, and when that miracle is consistently delayed we begin to lose hope." "Les Jensen takes a different stance, and the content of this book (while best read individually by each reader) is well condensed." "This book comes at a particularly apropos moment in our history – a time when all channels for a future of humanity and the planet itself appear hazy." "Take the time to read Les' book, think it though, and perhaps replace hopelessness with individual empowerment."
I met Les Jensen while I was struggling with a personal issue that had reoccurred for as long as I could remember. Maybe he had seen my problem before or maybe it's just a common problem, but somehow, Les "read me like a book" and described precisely the self-sabotaging behaviors that had affected me my entire life. We discussed how I contributed to this issue and then Les described some exercises that would help me change my behavioral pattern. I have been following Les' advice, and as a result, I am much stronger and feel that I am on a much more positive path. I would recommend his services to anyone interested in making positive changes in their life.
"My experience with Lester is nearly beyond my capability to describe. The personal transformation that has resulted from what can only be described as life transforming. He has completely changed how I handle my thoughts and emotions. I am now in control of exactly how I feel. When Les explained his concept and how it applied to me I was skeptical as to how much it could really help me. I didn't fully understand how it would work but I was intrigued enough and I trusted him enough to try what he said. What amazed me the most was how quickly BIG changes started to happen. It was immediate and permanent! I have a control over my life that I never had before and it's continuing to improve. If there is a single person who has had an immediate and powerful life changing impact on me, it's you my friend. You changed my life!
I really appreciated the quiet clarity with which Les speaks and the simple brilliance of his processes to help others discover and manage their ability to create what they want. His system has been very helpful to me; his understanding of how to work with one's energy patterns and deepest subconscious thoughts and emotions is just wonderful! Get his CDs, hear him speak in person, and engage him as a Personal Transformation Coach, you will be glad you did!
All I can say is that when you speak with Les he gives off an aura of comfort and positive energy. After our conversation a new perspective became clear in my mind and I began implementing his advice and began to notice a huge difference in my thoughts and a greater awareness in how my body feels. Les has truly assisted in the release of negative energy, thoughts, and beliefs that were inhibiting me from moving forward in my life. Les, I truly do appreciate you and your services. Keep up the power of your work!